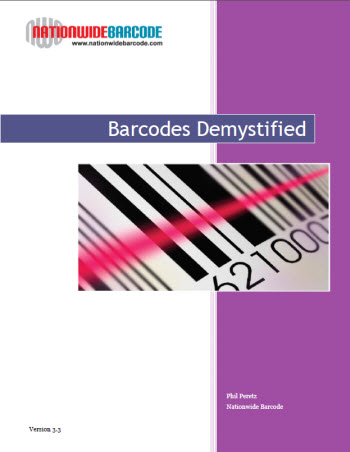 Barcodes Demystified is our eBook that explains how barcodes work including differences between EAN and UPC, Coupon Codes, Check digits, Barcodes for products, music, greeting cards, magazines, books and more.
We understand that figuring out the differences between UPC and EAN barcodes, how country codes work, how to correctly size barcodes, etc. can be perplexing. With excerpts from George Laurer, the inventor of the UPC barcode, we have created an easy-to-read, easy-to-understand eBook.
This is the definitive guide on UPC and EAN barcodes and it's yours free.
Download Barcodes Demystified
The only thing that we ask for is that you give us your email address so we know that you are a real live person. Once you hit submit, we will email you a link to download our ebook. This email will come from support@nationwidebarcode.com. If you don't see the email in 5-10 minutes, be sure to check your spam folder. Thank you