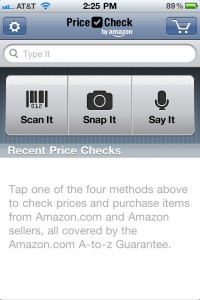 There are a number of great barcode applications on the market, but Amazon has made it easier as faster to locate items where you want to do some comparison shopping.
There are three ways to locate items.
Scan it, simply locate the barcode on the product and the application searches the extensive Amazon database for the products.
Snap It. I took photographs of a lot of different items in the house and my office and the best results were with Books, CDs and Books.
Say It. I am in awe of voice recognition software and was delighted with the almost instantaneous listings of the products that I was researching.  What work really well is reading the UPC or EAN barcode number, in fact, this is a lot faster than scanning the barcode number.
If you are scanning, the application scans the barcode quickly and accurately. I've used other applications that scan barcodes and the scan time varies. The Amazon Barcode Reader is fast. The steadier your hand, the faster the application works.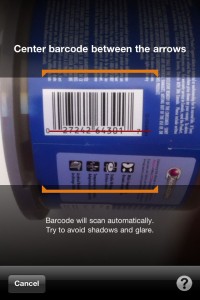 Centering the barcode is easy. With many other barcode readers, you have the feeling of threading a needle, not with this application. The instructions mention that you need to avoid shadows and glare, but I found that it was quite easy to scan directly from a computer screen
Once items are located, you get a list of all matching products and you can purchase directly from your smart phone.